So I'm a day later than usual - went on a trip to the mountains this weekend with some of my college buddies from NC State, and it sounds like we made the right decision given how this weekend went for NC State sports. At any rate, this is going to end up being more like the #goacc Moment of the last week and a half, because we have to give the proper attention to a certain meltdown that came in just after the Wanking Roy Williams cardboard sign stole the show last week. Which is your #goacc Moment of the Week? Vote below!
1. Jim Boeheim lost his damn mind at the Duke game, then the Internet shattered (h/t @JamesCurle, @WXMoose).
As you all know by now, Boeheim's epic meltdown at the end of the Duke game in Durham caused social media to absolutely erupt with memes and parodies, none better than from @JamesCurle and @WXMoose:
Boeheim and Falcor pic.twitter.com/5LbECTtY04

— Weather Moose (@WXMoose) February 24, 2014
I think we can all agree that this is could be the #goacc moment that could unseat the UNC fan getting his car stuck on campus as the frontrunner for the #goacc champion.
2. Kyle Singler gets obliterated by Klay Thompson, set to Mike Tyson's Punch Out!!
I'm not gonna lie, I had way too much fun making that video. The way Singler stumbles backwards matches up absolutely perfectly with the sound effects from Mike Tyson's Punch Out.
3. Jameis Winston does the robot during a video bomb (h/t @the_Jameson, @AwfulAnnouncing).
#goacc RT @awfulannouncing New AA - Jameis Winston videobombs report with the robot http://t.co/FA0HMC4Xz6

— Jameson (@the_Jameson) March 2, 2014
His homage to robot guy from Chappelle's Show is outstanding: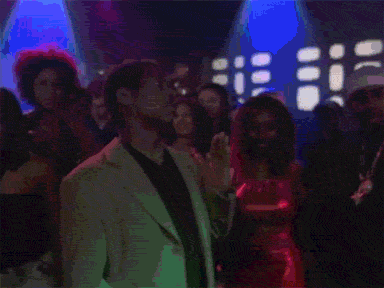 4. Virginia Tech's halftime shows have just given up (h/t @mengus22).
#goacc RT @haroldgut: There is a baby crawling race here at halftime pic.twitter.com/PdaT2YRU9n

— Mark Ennis (@Mengus22) March 1, 2014
A baby race? WHY HAVE YOU FORSAKEN US, RED PANDA??
5. Excuse me, Coach K? (h/t @armstrongABC11).
Armstrong's face says it all.
6. Old Clemson fan is bored (h/t @lebrownlow).
Halftime is for thumb-twiddling. #goacc https://t.co/2i1MPiwEV4

— Lauren Brownlow (@lebrownlow) March 2, 2014
If there's ever a vine that personified the SOON! meme, this is it.
7. UVA fans get loud after beating Syracuse, and Tony Bennett compares the atmosphere to a Taylor Swift concert (h/t @awbatchelor).
#goacc RT @EyeOnCBB: Tony Bennett said Virginia's win rivaled the atmosphere of a T.Swift concert http://t.co/9rzL5GTLXj via @Chip_Patterson

— Andrew Batchelor (@awbatchelor) March 2, 2014
So that means UVA fans were screaming like a bunch of teenage girls, amirite?
8. College football recruiting is so damn weird (h/t @jdotleezy).
#Goacc RT @scott_patchan: The unique ways schools recruit are awesome. This is just cool haha #wakeforest #Deacons pic.twitter.com/jJyr9XIYEN

— The Mellow King (@JDotLeezy) February 27, 2014
Seriously, what in the actual hell is this? If I was a kid being recruited to play football and I got this in the mail, I'd pull my official visit off the table in a heartbeat.