The Weather Moose:
So the whole 'beat UNC, lose to FSU' thing didn't quite go as expected. But maybe that's a good thing? State looked hellbent on getting run out of PNC before making the end of the UNC game interesting and then held on for dear life against FSU.
I really should've seen the whole 'Marcus Paige is a hero' thing coming. I didn't expect Tokoto to basically dry hump Lacey up and down the floor, basically taking him out of the game for the entire first half.
And I think it says a lot for this team to have gone down to FSU and win without the starting point guard. Yeah, FSU is hot garbage, but road games are tough. Had Cat been in the game, not sure it's quite as close towards the end. It seemed like when Lacey was tired, it really derailed a lot of the offense.
So now the team goes farther south to take on Miami, who all of a sudden looks respectable. I have no idea what the line is, but I'd assume Miami is a slight favorite. Do you see anything that makes you think State can win this game? To me, it's a similar match-up to Duke with smaller, athletic guards, but I could be completely wrong.
Austin Johnson:
We were wrong, but we were also right in that the UNC game would determine the outcome of FSU.
Last week was a 'You know what, I'll take it' week for the Pack. You add up enough of those and you end up in the NCAA tournament. Certainly I agree that the FSU game is probably a little less shaky at the end if Lacey isn't playing 39 minutes and trying to do everything offensively for the team and if Turner isn't battling foul trouble for the 800th consecutive game. I think its safe to say Turner's foul issues are much more a him problem than an officiating problem at this point, so stop it Ralston (no way his teammates call him that right? What's his nickname?)
So yeah, its Miami & Notre Dame this week and they present somewhat similar challenges as offensively dynamic teams that have defensive issues (the ACC is full of teams like this for some reason this year as these two join the Pack, Pitt and Duke in that category to varying degrees). As much as we talked about the UVA/Duke/UNC stretch, Miami is currently right behind the Pack in KenPom and the Irish are a top 20 team so going 1-1 this week would be a win.
Miami will mostly go as Angel Rodriguez goes. If he struggles, they tend to struggle. Unlike the Pack's previous two opponents the Hurricanes have plenty of solid 3-point shooters so I can't imagine we'll see much in the way of that infuriatingly ineffective zone again. Like the Pack, they lean heavily on the guards to score for them and they don't get a ton of offense from their bigs. Unlike the Pack, they don't turn the ball over at all (lowest TO% in conference play) but are more vulnerable on the boards. Like most road games it seems like this will come down to whether the Pack can hang onto the ball and whether or not the bigs can outplay the Miami bigs.
Notre Dame is the Pack taken to the extreme. They boast the nation's best offense and the 159th best defense. The Irish shoot just an unimaginable 61% from inside the arc so basically they have a team of TJ Warren's I guess? That sounds bad. They only shoot 40% from 3 though, ranking a lowly 13th in the nation, so clearly that's their weak spot we can exploit. Actually they don't get much in the way of 2nd chance points but I guess who needs them when you make everything. Jerian Grant should probably get some legit ACC POY buzz as long as the Irish keep winning, he's that good right now. But again, the defense is something of a disaster and the game is at home so if the Irish just shoot a little worse than normal its a very winnable game.
Moose:
Ralston's nickname...hmm...
Man, that's tough. Cause you can't really call him Ral-dog, because it sounds too much like something else that'd probably be offensive in public. Maybe they do call him Ralston? Maybe they just call him 'R.' What about anagrams? There's La Snort. Ran Lost. Snarl To?
I don't know. As long as he keeps hitting 3s consistently, they can call him whatever they want. So long as he answers. I'm a little concerned about Miami's ability to hit the 3, but the good thing is State's guards are a bit bigger, so hopefully can do a good job of making the shots a little harder. I agree with you in that the less zone, the better. We just have to hope that La Snort can stay out of foul trouble, which you've already outlined.
Notre Dame is frightening just from the standpoint of how well they're shooting. Is that 61% from 2 basically right at the basket? If so, I feel good based on how much better the interior defense for State has been lately (am I making that up?). Maybe we catch them on an off night.
Predictions? I think the WLWLWLWLWLW pattern continues. Miami is going to be a tough road out. I just don't see the Pack playing well in two consecutive road games. They'll come back home on Sunday and get it done versus the Irish. I know it in my heart.
In gifs... the Pack on the road won't go so well: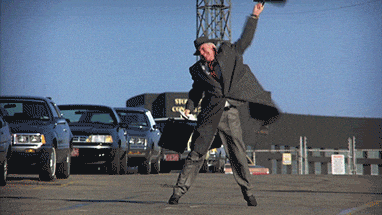 But at home?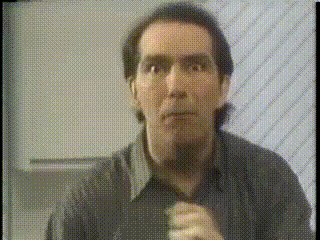 Austin:
Trey Turner? Too confusing because we already had one of those (the spelling is different though!)? Probably too confusing. Oh well.
My prediction is.... wait for it.... two wins. I think we're talking about a 6-2 record and a string of 100+ Pomeroy rated opponents coming up next week.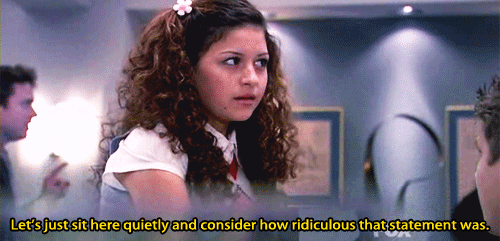 I have no explanation for my irrational confidence maybe I'm just in a good mood or experiencing some sort of dementia at age 32.
Moose:
I don't even know who you are anymore