The Weather Moose:
Well, if you take away the points off turnovers...
Nah, that doesn't help. Funny enough, I thought State really had a shot in this one up until the weird bounce off the receiver's foot interception play at the goal line. If they had cashed in there, who knows. I still think GT would run wild over State, but you never know. The offense was kinda lifeless after that point, which is deflating given the level of GT's defense.
I guess we should just be thankful that Jacoby made it out of the game OK after what appeared to be a devastating injury. I thought for sure the season was sunk, but thankfully it was nothing major.
Do you have any positives to take away from the GT game or should we just burn that game film?
Austin Johnson:
Yeah there's nothing to really take from that game. But I do agree, the whole affair had 'shootout into the 4th quarter' written all over it unless the weird interception just seemed to turn the Pack offense into an epic disaster show of sadness. Ultimately though, a good team doesn't let a fluke play like that effect them for the rest of the game - the Pack just isn't a good team and I don't know if its coaching or youth, but they also have no mental toughness at all. When it gets going bad, it goes real bad.
So I wouldn't burn the game film - I'd watch it and say 'We can't let one play turn into a loss'. That's the lesson to take away from Saturday as part of the team.
So now its on to Wake Forest. NC State hasn't been a touchdown favorite to any fully integrated FBS team this year, and yet here the Pack is as a two touchdown favorite over the visiting Deacons. Does this game scare you? Or is Wake's offense so bad that you actually feel weirdly confident?
Moose:
Does the Wake Forest game scare me? No. Not even a little. When is the last time Wake beat NC State in Raleigh? 2006. And this Wake team is dreadful. They're coming off a fairly emotional game against Clemson where they were "in it" for a bit before losing by two scores. I know NC State's defense isn't the best, but lately they've been less terrible. And Wake's offense is ...wooboy, I don't know where to start with that one. I think Wolford will have some success but really they don't have much going for them. The fact that Vegas put State down as a two-score favorite tells you something.
Have you seen Wake play at all this year? I've seen a bit of a few games, including the most recent with Clemson. And had Clemson not...well, almost Clemson'd, I'm not sure Wake is even close to in that one. They had 119 yards of total offense. Both touchdowns came on drives that started in Clemson territory and one started on the Clemson 13(!) after the hilariously stupid fielding of a punt. Not to mention Clemson's offense was hobbled with Cole Stoudt under center.
I think Jacoby, even given recent issues, is better than Stoudt. And Wake's defense is OK, but not great. I actually think this is the game where good Jacoby returns. Have you seen anything out of Wake, either in the stats or with your eyes, that makes you think State won't be bowl eligible Saturday afternoon?
Austin:
So, I'll say this, I think Wake has the best defensive unit in the state. Now, that's the definition of a back-handed compliment but they should still take it. Because they also probably have the worst offense, and I'm including App State and UNC-Charlotte in this conversation.
Their biggest problem is that they cannot run the ball, at all. Like ever. I think they may have given up on it entirely at this point, though I can't confirm because I refuse to pull up a box score. They have a couple of decent receiving options, and I actually think Wolford is going to be a good quarterback but he's got no help anywhere.
But am I worried about Wake Forest? Yes, because until NC State proves its something other than bad at football, ever FBS game will concern me. Their path is pretty obvious - play field position and hope that State makes a few dumb mistakes that Wake can turn into points. Wake is looking at this as a winnable game, even though they haven't won here in their last three trips.
But all that said I don't expect the Pack to lose this game. The combination of home crowd and low bar for success offensively (20 points wins this game, I think) should be enough. Give me the Pack 21-13.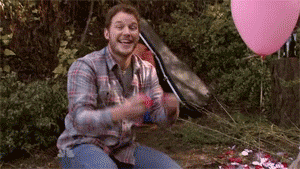 Moose:
It's a backhanded, albeit true, compliment. And it's not saying too much. Saying Wake's defense is the best in the state is like saying you're the hardest working carny at the fair.
I actually think this is bad timing for Wake. There's a bit of an emotional letdown following the Clemson game and now with bowl hopes completely dashed (quit laughing!), what's there to play for?
I think State wins and covers 31-13.