Weather Moose:
Austin,
Whatever optimism had for this year prior to the first game of the season has been quickly extinguished. While State was "victorious," I saw no reason for hope in the coming weeks. For roughly the first 45 minutes, I wasn't sure this team knew anything about football. A whole offseason to prepare and this was what they put on the field?
But I guess a win is a win.
So we move forward to Old Dominion, who just gave up 28 points to some school called Hampton. State is a 17-point favorite and I feel that's easy money, not that I'm into that kinda thing.
How concerned should I be? I said last week that if State didn't win by 14+, let the worrying commence. So honestly, I'm in full-on panic mode. The offense was in shambles, the defense was clueless, and EVEN SADE MISSED TWO FIELD GOALS! WHAT IS THIS WORLD?!
And now I'm crying again.
Please help.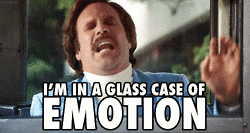 Austin Johnson:
Moose,
Hope you had a pleasant Labor Day weekend that involved being able to forget that Saturday happened. Ultimately, yes - a win is a win and all that. Like Syracuse, the Pack avoided outright disaster. Gold stars for everyone!
Even accounting for the improvement in the 2nd half, it was the seeming lack of preparation on defense that was most alarming. You can sort of hand-wave it away as a "they didn't really prepare for that offense much except in game prep that week," but it still not a good sign when a fairly straightforward option play gets gashed because no one on defense is marking the quarterback. Even worse when that same thing happens several more times. The offense is less worrisome, as it did seem like Brissett was battling nerves while airmailing open receivers early, and those nerves mostly settled down in the 2nd half.
Let me defend Sade though, who was asked to kick two 50+ yard field goals that were essentially out of his range. In one circumstance, the Pack should have simply gone for it, but Doeren must think Sade can hit the 50+ yarders so they gave him a chance. In the future, I'd suggest going for any 4th and medium situation in that area of the field.
All that said, you should be very concerned. Are there instances of good teams struggling against inferior competition then getting it together? Absolutely. Are there far more instances of bad teams struggling against inferior competition because they are bad? Yep. So hope for the former, but understand that statistically speaking the latter is more likely.
The one thing that State does have working in its favor is its youth and inexperience. If you assume that freshman will improve at a greater clip than upperclassmen (because they're still learning and can make significant leaps once they know plays, situations, etc better), then it's very possible this team will improve markedly over the first few weeks, and the schedule allows those growing pains.
Moose:
STOP TRYING TO CONFUSE ME WITH YOUR LOGIC AND BIG WORDS!
But thanks for confirming that my concern is well placed. It's not likely to disappear soon, save for a thorough drubbing of ODU this Saturday. Speaking of, did you see the black uniforms? Very sharp, which is not something I say for most of today's uniforms.
One has to ask, though...is State wearing black for fun/recruiting purposes or because they're mourning the death of their football season based on last weekend's performance?
I hope the "apparent lack of preparation" can simply be explained by the youth and inexperience you point out. They did eventually start marking the quarterback, so adjustments/corrections were made. I suppose that's a positive.
Did Saturday's debacle cause you to adjust your outcome of this season? I suddenly feel like it'll be a miracle if this team makes it to a bowl game. I've adjusted my expectations to a 4-8 season unless the defense wakes up and the offense can get moving in the first half of games.
Austin:
I actually love the black uniforms as well. I'm not really a uniform guy, in that I generally don't care what they wear one way or the other, but I do think they've done a good job rolling these out and making them an event. Now you just have to hope it doesn't, as you alluded to with your question, become something like the basketball uniforms, where the team can't wear them without people pointing out their atrocious record in those uniforms (they should just wear them for a bunch of home games in November to pad that stat).
And yes, Saturday's game has absolutely adjusted my expectations downward - how could it not? You watched that game, it was a nightmare saved only in the end by our depth and pure athletic advantages. The Pack pretty much got outplayed on both sides of the ball by a team playing its first game of FBS football. I have no idea what the final record will be now, but a bowl game would be a pleasant surprise. Luckily they get Wake Forest at home, so you'd think they can at least squeak out an ACC win this season.
Let's move ahead and talk Old Dominion. Oh look, its another team playing its first year in FBS (am I wrong or are there a ton more of these teams than normal this year?). Conference USA was apparently so desperate for a team that it added them to their conference already, which sort of shows how far that conference has fallen in the last 10 years.
The Monarchs actually went 1-4 against FBS schools last year, beating Charlotte in its first year as a football program of any kind. They can also score some points...but they also gave up 80 points to UNC last year. So the defense is a tad shaky, it appears. Do you think, considering the improved play in the second half, the offense can have a breakout showing? Or will we make ODU look like a much better defensive team than it actually is?
I'm inclined to think a little from column A, a little from column B. And of course, I need an official GIF prediction.
Moose:
I had completely forgotten ODU was in transition last year and is now in its first FBS year. Well, let me be more honest than that; I don't think about ODU football ever. And the fact that they're in C-USA just gives me all the more reason to laugh at ECU for being stuck there so long. As you point out, it's been quite the decadal slump.
So I actually took a second to look at the box score of the ODU/Hampton game last week. Sure, ODU did mostly what they wanted to, but Hampton had the ball *twice* within 5 yards of scoring late in the 4th quarter, but literally dropped the ball, fumbling twice. So, since we're NC State guys and operate in theory, Hampton *could* have won that game. And that's...not good for the Monarchs. They can score, that's true, but keeping the opponent from doing so is their biggest bug-a-boo.
It would take a serious bed crapping to make ODU look better than they are defensively. Last Saturday aside, I think State will defeat ODU handily, covering the spread. It helps that the Monarchs run a more traditional offense than the spread option attack that GSU used to befuddle the Wolfpack last weekend. Seriously, Hampton is terrible and the fact that they put up 28 points on ODU says A LOT.
Official GIF prediction: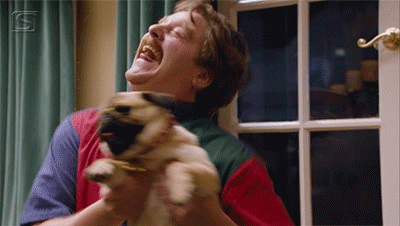 Awkward at times but still dancing in the end.
Austin:
Congrats, you've gotten me to agree that NC State should blow out this ODU team on Saturday. This is all your fault.
My official GIF prediction, in honor of the black uniforms (Liam Neeson is ODU, obviously).